A few weeks ago I realized I never showed you the inside of our chicken coop that Jeff and the boys built last year. You can see how they built it in these posts:
:
The first third of the coop is not for the chickens, but for storing their grains and supplies. See that door? It opens into the room for the hens. We can check on the hens through the wire screen. These boards in the center?
They open up to reveal the nesting bozes....two rows of four boxes...Oh, look!! A couple of eggs!!
This is the room for the hens. Their feeder is suspended from the ceiling so feed doesn't get spilled everywhere and it can be retrieved from the doorway without having to actually step in the room. A lightbulb is also suspended from the ceiling. That little light kept the hens laying all winter long. And you can see the little door that allows the hens to freely go from house to pen. We will soon be adding a back door and another large pen for more space.
A hen's eye view! The nesting boxes and watering cans. Looks like a cuckoo maran is laying an egg now!
All the ladies outside soaking up some vitamin D.
And that's a look at the layers. Next week we will be adding in 100 meat birds. Where will they reside? We have the perfect place!! Check here to see our chicken tractors. We have two lovely chicken tractors that should give our meat birds all they need. We can move them around daily and they can forage all they want!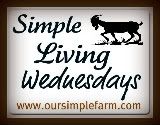 farmgirlfridaybloghop+%281%29.jpg
homesteadrevival.blogspot.com